A Cardiff, Wales resident, whose mother, father, and brother died of COVID-19 within one week of each other, is now urging the public to get vaccinated against the virus. The instance, tragically, is far from isolated, as COVID-19 patients and their families are increasingly expressing their regret over not getting vaccinated—meanwhile, experts warn that "vaccine hesitancy" is a pressing issue to be grappled with in the fight against the virus.
According to WalesOnline, Francis Goncalves' family, located in Portugal, had resisted the vaccine due to frightening, anti-vaccine "misinformation."
Explained the 43-year-old to the news site: "Dad went to hospital on July 6 for kidney stones, we think he picked COVID up there. On Thursday, July 8, my parents had dinner at my brother's apartment he shares with his girlfriend and they started to feel very ill that weekend."
By July 10, Goncalves' parents, Basil, 73, and Charmagne, 65, had been admitted to a hospital. Two days later, Basil was sent to the ICU.Newsweek Newsletter sign-up >
As Goncalves prepared to fly to Portugal amid travel restrictions, he struggled to keep in touch with his family. "I spoke to my brother every day and we couldn't get hold of my father….It was very difficult for me to get hold of him in a country [where] I couldn't speak the language," he explained.
"Meanwhile [my brother's] mucus had changed from green to brown and I told him to be very careful because that could be a sign of pneumonia," added Goncalves. "From then, he deteriorated and when I managed to speak to him, I could tell there was definitely something wrong with him."
By July 18, at around 1 a.m., Goncalves' brother, Shaul, had passed away. Described by Goncalves as the "healthiest person," the news came as a shock. "If he wasn't working out in the gym or running, he was going on walks. He hadn't drunk in 15 years and ate a whole foods plant-based diet," he said.
Goncalves' parents' conditions also deteriorated rapidly, with his father passing away July 20 and his mother succumbing to the illness July 24.Newsweek subscription offers >
About a week later, all three family members were buried beside one another in a Libson cemetery, in a section designated for COVID-related deaths.
Describing his family as "small and close," the loss has been beyond devastating for Goncalves. "I was and am still proud of my family," he told WalesOnline.
Meanwhile, he is speaking up about the experience in order to advocate for others to get vaccinated: "​​They got caught up in a lot of the anti-vaccination propaganda that's going around," he said. "It preys on people who are afraid and they fall into the trap. The message I want to get out is why would the government want to hurt you by giving you a vaccine? What is the purpose behind it? I've spoken to so many people who are terrified of the vaccine and it costs lives."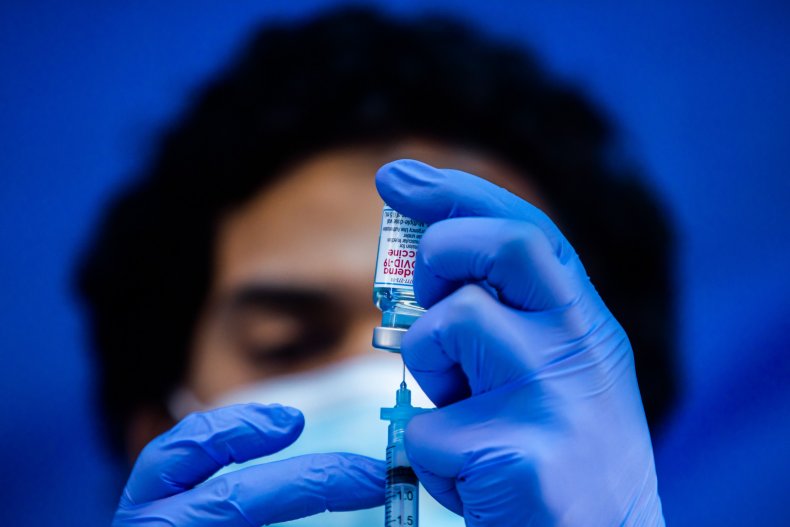 Unfortunately, Goncalves is far from alone in his experience. Recent weeks have seen several reports of COVID patients and their families expressing regret over vaccine hesitancy.
A 28-year-old unvaccinated man in Georgia died from COVID-19, while his wife, who had received one shot, survived. "He was deep into TikTok conspiracy theories and, for him, he just didn't want to get [the shot]," said the 25-year-old widow. After becoming ill, she said he had changed his stance on the vaccine, wishing he had gotten it.
On Friday, a 22-year-old in New Orleans died after contracting COVID-19. He was unvaccinated, despite his mother's pleas. "Don't stop talking to your kids. Don't stop asking them to be vaccinated," said his mother to a news outlet.
According to Our World in Data, only 30.2 percent of the global population has gotten at least one COVID-19 vaccine. The percentages vary widely country to country, with wealthier countries benefiting from higher vaccination rates. As of August 9, "only 1.1 percent of people in low-income countries have received at least one dose" of a COVID-19 vaccine.
This article was originally published on Website: www.newsweek.com
Author is: ANABELLE DOLINER